Puerto Rico is a Caribbean dream full of beach and snorkeling adventures. You can reach them in many ways. Do you know them all?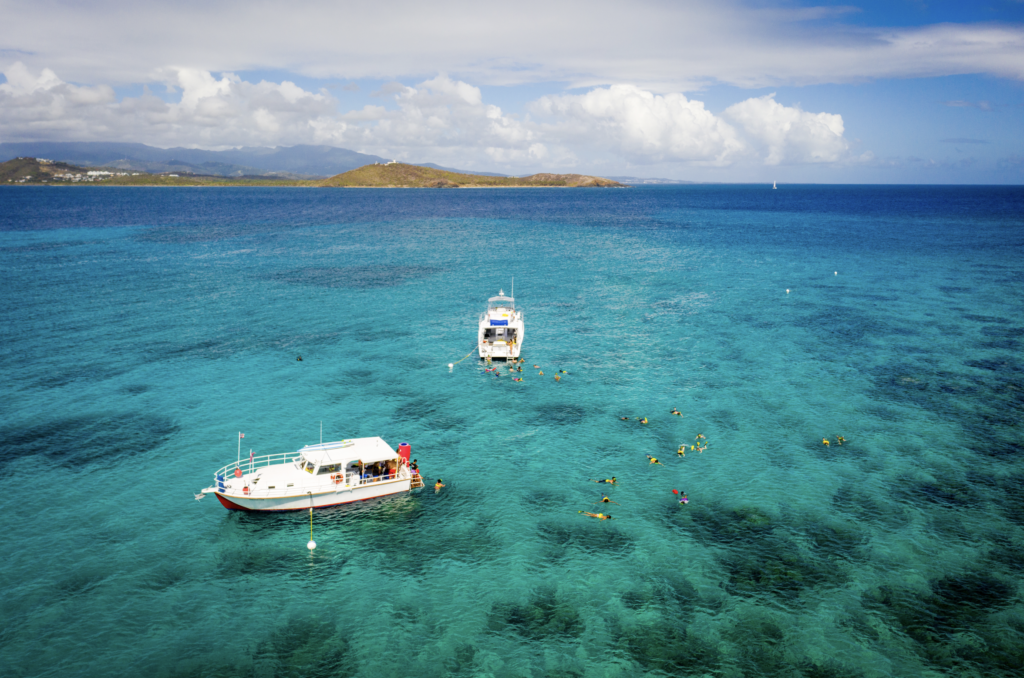 Water activities comprise most of what to do in Puerto Rico's cays, islands and reefs. It is indeed an inspiring boost that has an option for all, even if you're an adventurous amateur.  Surf or Jet Ski is maybe the top choice for experienced ones, while snorkel or kayaking is ideal for the first approach to marine life or row out into the clearest blue. 
Booking a tour on a mini boat, a vessel or doing group kayaking is most of the time the best way to get the most of a day, since you can snorkel at different spots guides know best. Also, you can cool yourself off on the most pristine beaches and even swim in the pools of El Yunque Rainforests while using the slick walls of waterfalls as natural water slides. 
1. Snorkeling is king
Swimming through the colorful reefs while seeing sea turtles and schools of fish is top on the list of pure adventure snorkeling in Puerto Rico. There are many transportation options to get there, and have a blast!
You don't need scuba certification to feel like an Aquaman. Join an adventure snorkeling tour that provides you with the gear and directions, so you just have to look straight down. Icacos island adventure near Fajardo bay is one of the most surprising snorkeler's paradises.
2. A fantastic Mini Boat Adventure 
Riding your own Mini Speed Boat is a great way to enjoy many white-sand beaches, fabulous Icacos and guided snorkeling along the best coral reefs of La Cordillera Nature Reserve.
When booking a Mini Boat tour, it usually comes packed with snorkeling gear, snacks and refreshments. So let's say it is a fun and comfortable way to do snorkeling. 
The best part is that no boating license is needed when booking a fully-guided excursion. Just choose your group of friends and the perfect scenario for exploring and enjoying is given. 
3. Kayak adventure in Puerto Rico
Another way to enjoy Puerto Rico is to row your kayak on the waters of Fajardo Bay. It's fun since you can do it with your partner and in a larger group with other kayaks. A local guide is perfect since they provide you with cool info and useful facts about biodiversity and how they care for the ecosystem.  
You may also enjoy the impressive bioluminescence phenomenon, and see the glowing microorganisms that look like fireflies on the water at the bio bay and even enjoy the pristine pools of El Yunque Rainforest. 
When kayaking, there's a boosted feeling of the reward of Puerto Rico's natural beauty, giving you the privilege of reaching the gorgeous parts. 
4. A vessel: Navigating among friends
A vessel is perfect for enjoying many spots for diving and snorkeling in a group where you can meet new friends. The most popular snorkeling excursions go from Fajardo to Icacos Island and La Cordillera Nature Reserve.
A vessel tour offers many comforts and conveniences like drinks and food. If you board one, you can arrive on a deserted, beautiful island in almost no time. The guides know exactly which are the best spots for snorkeling and boost the mood of the whole group. 
Cayo Icacos, with its pure white sands and clear, shallow waters, might have you feeling like you've stepped into heaven. 
Every way of enjoying the central island surroundings gives you a different chance to get in contact with nature and your adventurous side.