Experience the Rare Phenomenon of Bioluminescence on a Magical Kayak Adventure along Fajardo's World Famous, Laguna Grande.
Bioluminescence is one of planet Earth's best-kept secrets. Tiny organisms make the water glow at night. They found the perfect place to live in the Fajardo Bio Bay.
Stir the water of the Bioluminescent Bays and lots of sparkles will activate. Glowing trails will swirl and flow with the water, natural wonders, water light, glowing water.
The Fajardo Bio Bay Kayak Tour feels like discovering a whole new world. This bioluminescent bay is part of a nature reserve.
The entrance is a beautiful mangrove channel. All along the way you are surrounded by protected life, and at night, the stars fill the sky!
You can only find this experience in the Fajardo Bio Bay.
So book with the perfect guides and bring your friends. 
Bioluminescence Kayak Tour Highlights
Discover bioluminescence at the Fajardo Bio Bay.

Enjoy a kayaking experience tour through a mangrove forest with protected fauna.

Learn about the reserve's ecosystems and their importance for the planet.

Watch and learn about the constellations at night and day trip.

Go with the most professional Puerto Rico tour guides and get the best quality of service.
See full Tour Details below.
$59

Per Person + Taxes & Fees

2 People per Kayak

$155

Bio Bay & Rainforest Combo Tour

Includes Transportation!
Quick Info
Duration: 2 Hours ( Includes 15min pre-ride instructions )
Age: 6 years +
Skill Level: Moderate Kayaking
Food: Seasonal fruits, water and cookies.
Location: Bioluminescent Bay, Fajardo Bio Bay
Launch Site: Kayak Village at Las Croabas, Fajardo
Open: Monday – Saturday
Activity: Fajardo Bio Bay
Activity: Bioluminescence Kayak Tour
Rules: Swimming is not allowed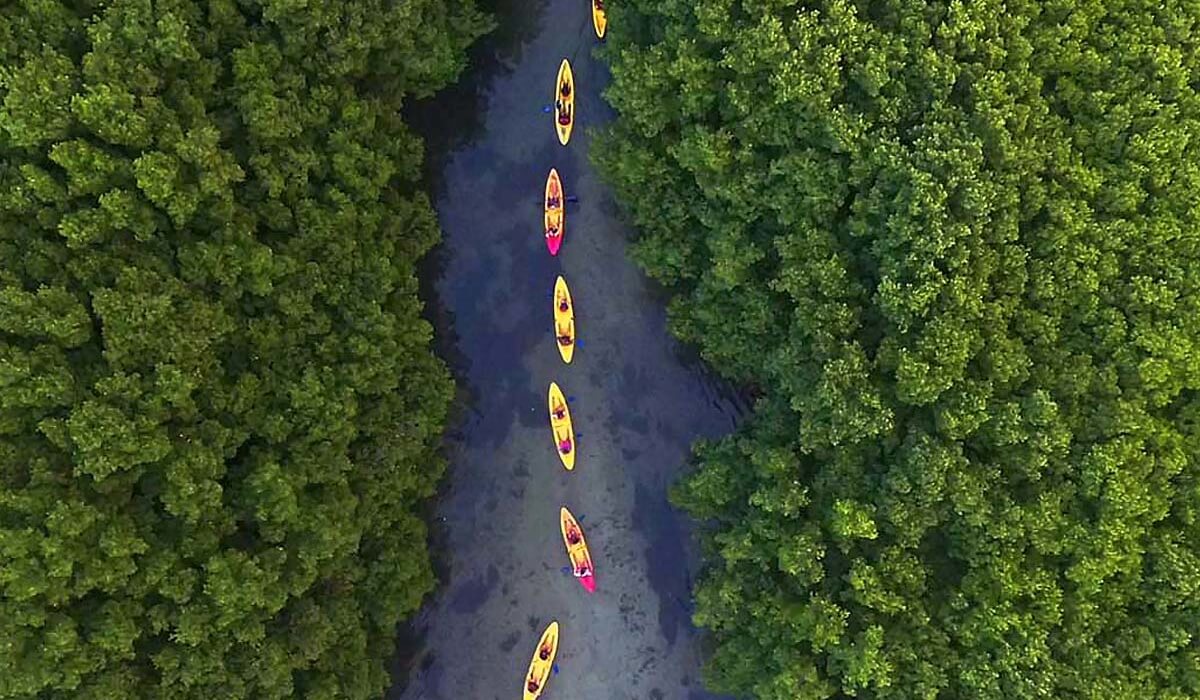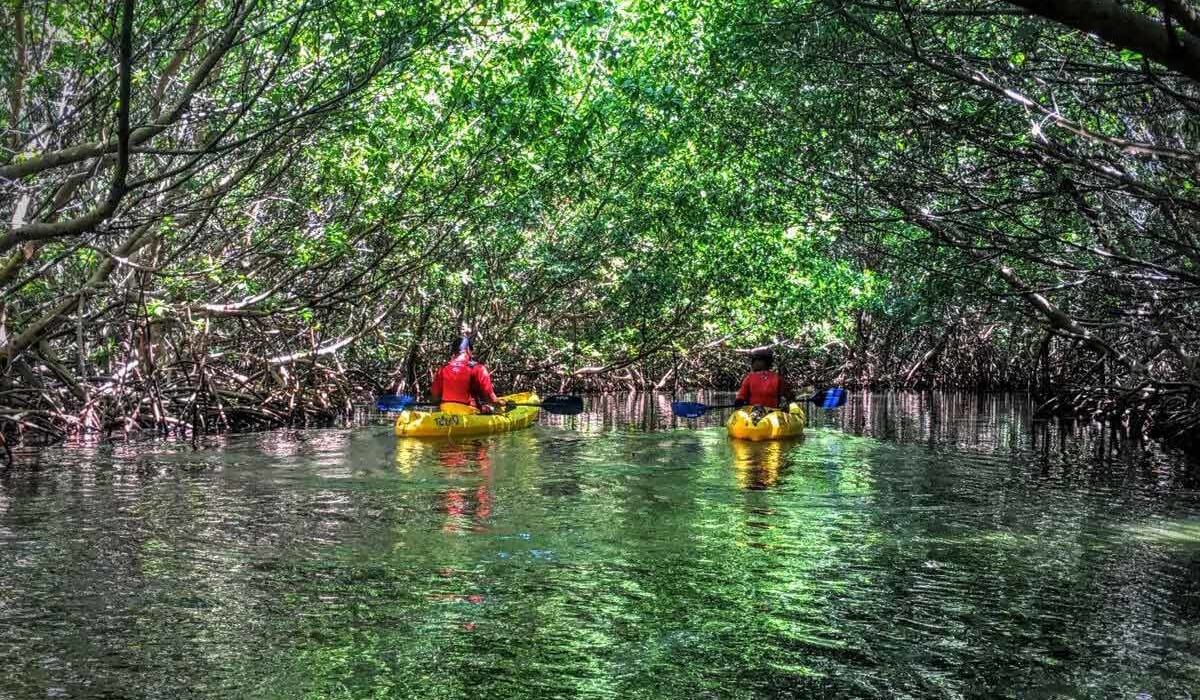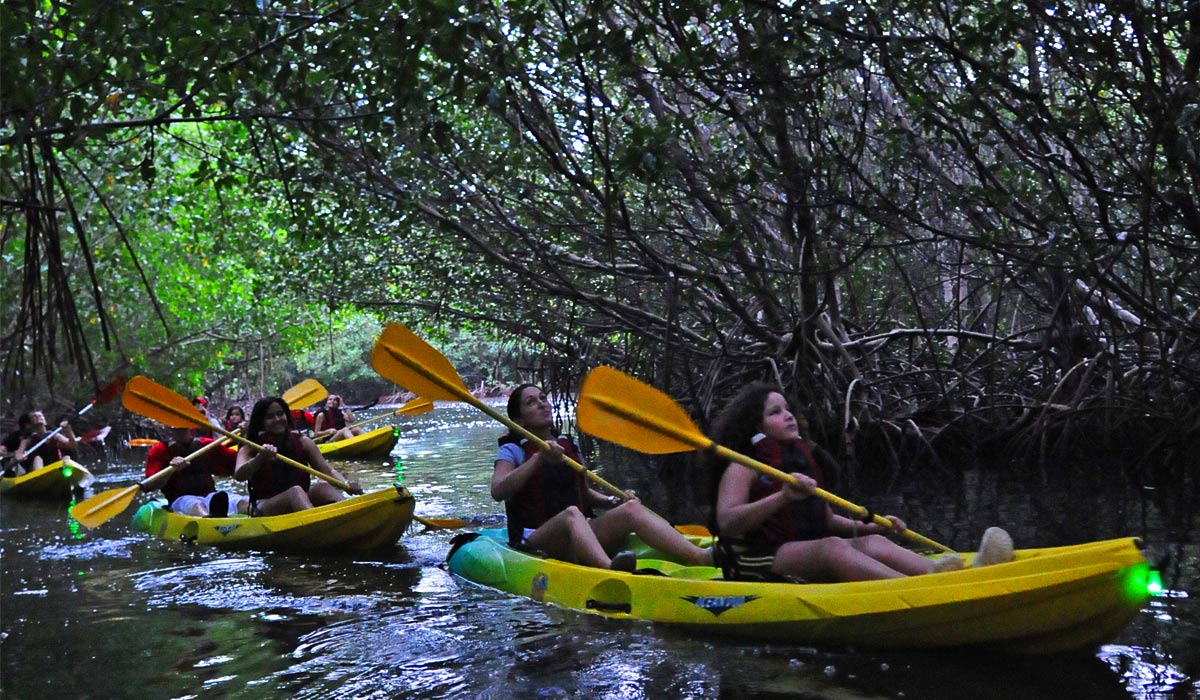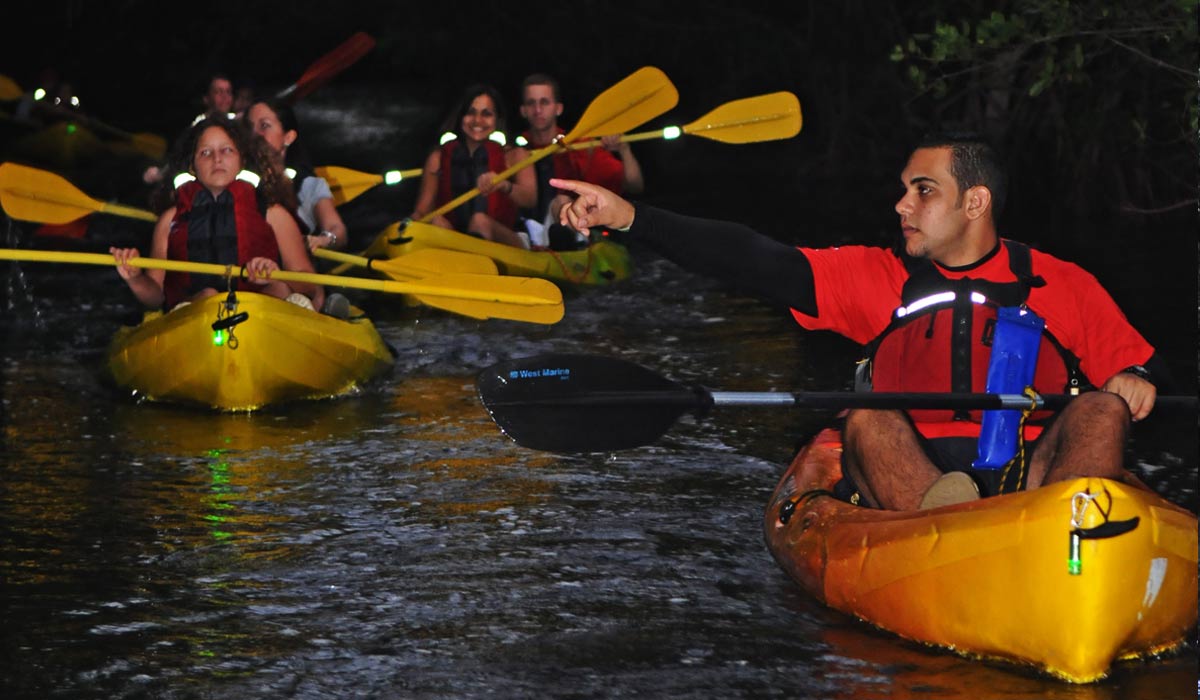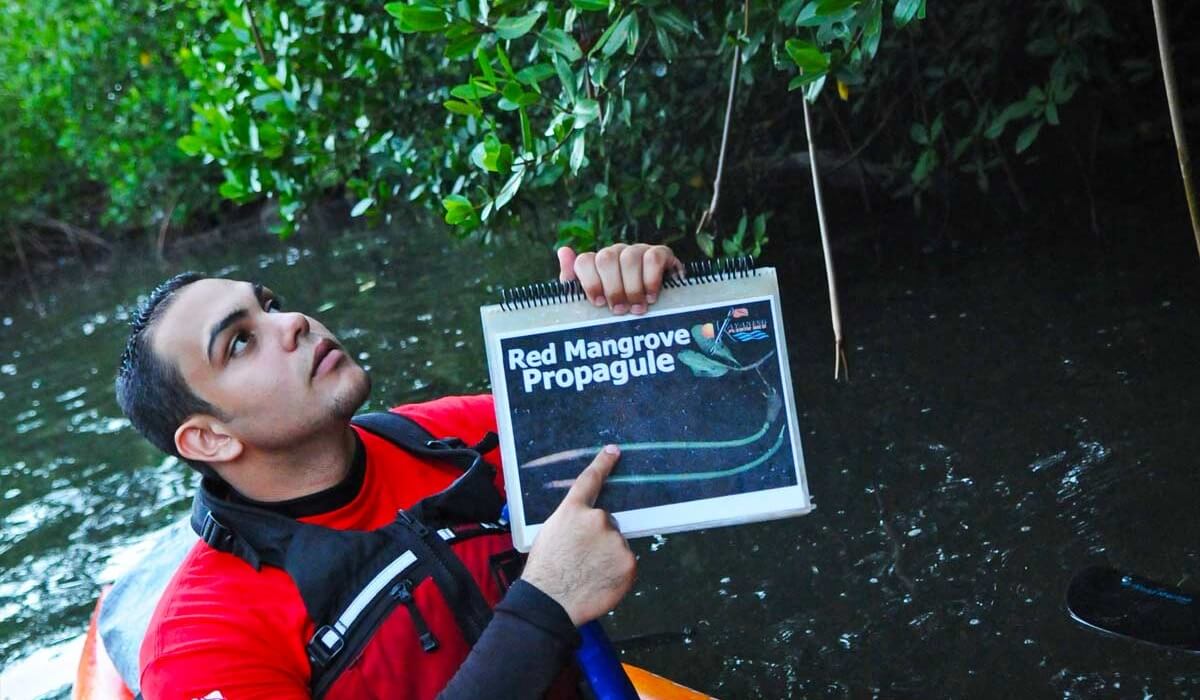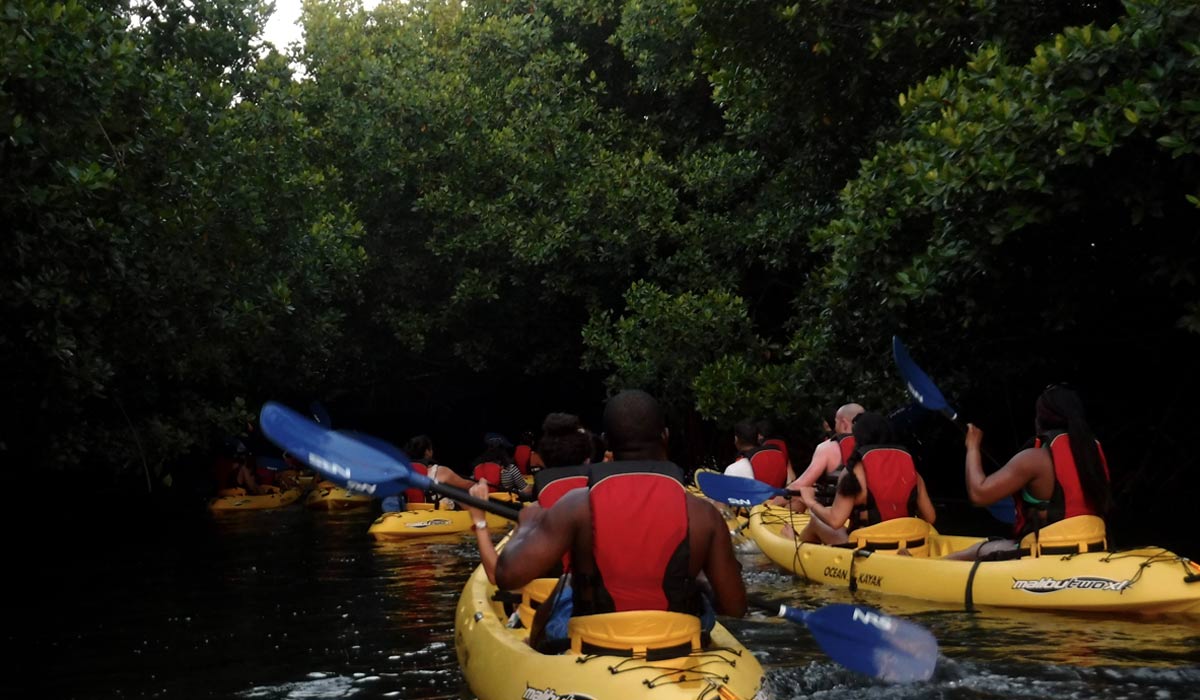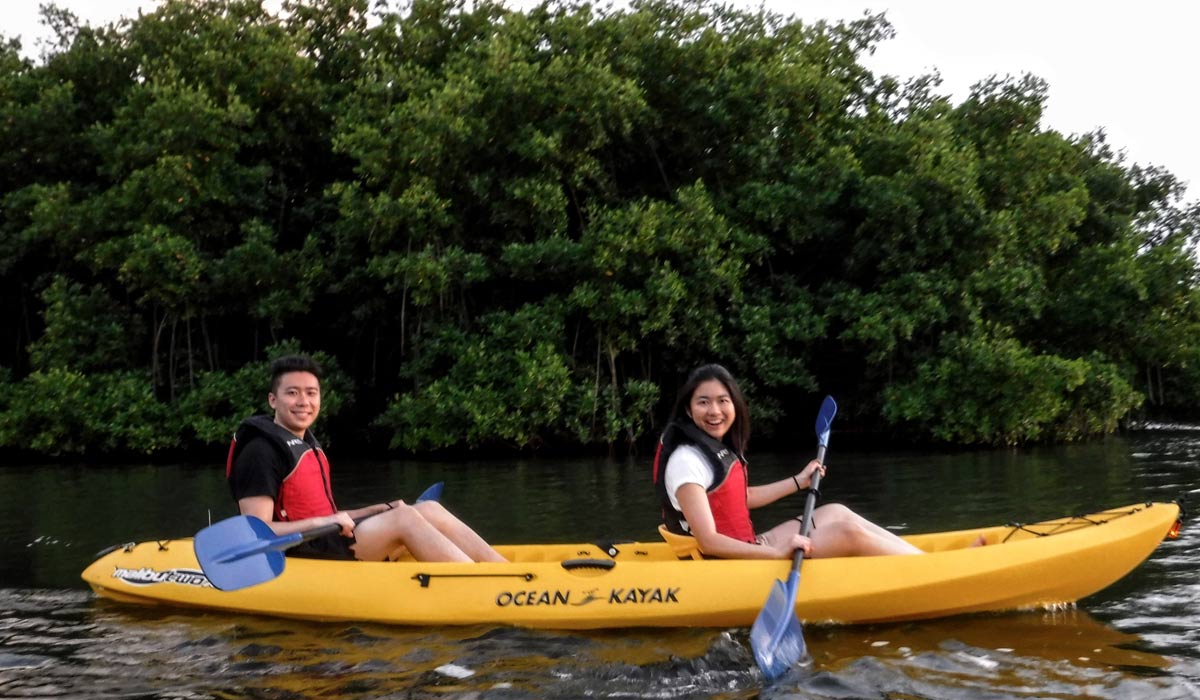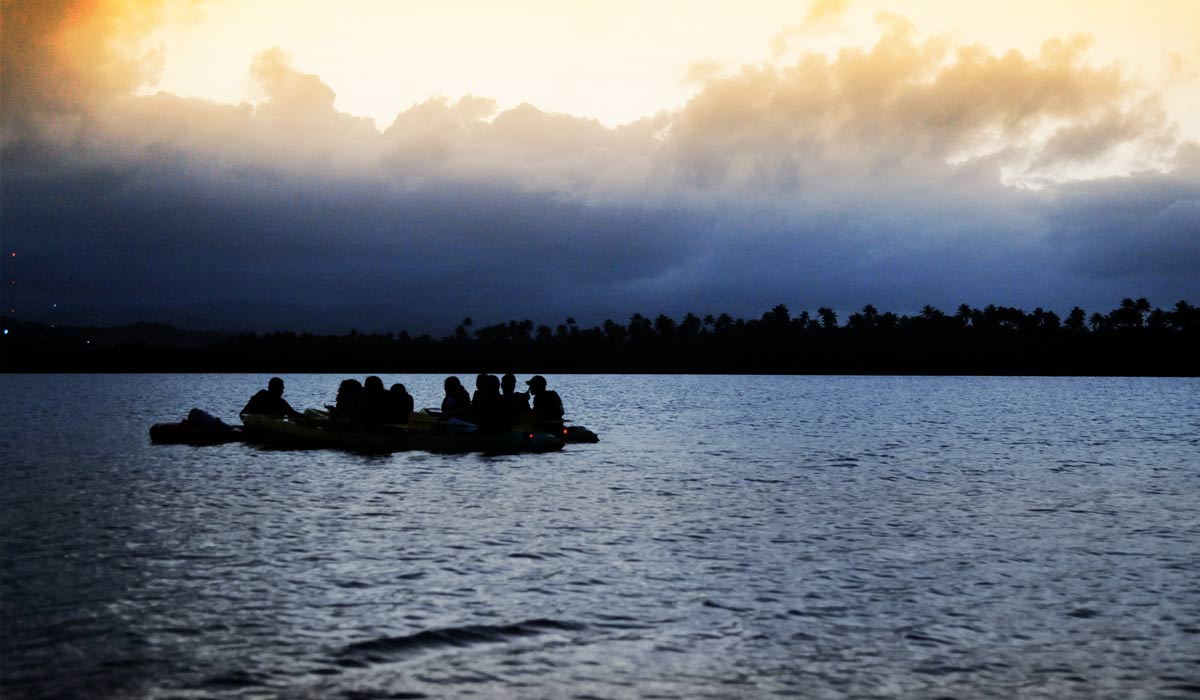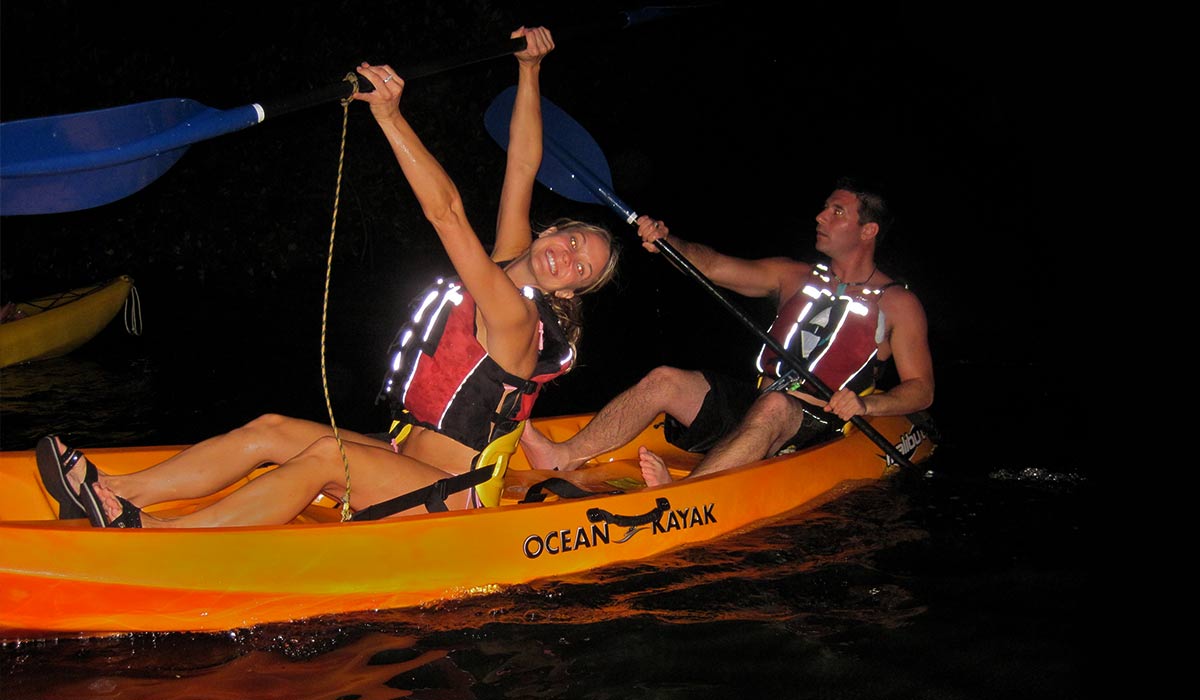 Fajardo Bio Bay Tour Details
Concentrations of Bioluminescence as found in Laguna Grande, are difficult to find in the planet.
Puerto Rico has the main bioluminescent bays in the world. If you haven't done a bioluminescence kayak tour, the Fajardo Bio Bay is your best option.
It is the brightest bioluminescent bay in the main island. Its bioluminescence is among the best in the world.
The Fajardo Bio Bay is inside a natural reserve. Its entrance is a beautiful mangrove forest. You will see a great natural scenery in your way to the main show.
The driving distance from the San Juan Metro Area is one hour.  Great local-food restaurants and kiosks are along the route. Many of Puerto Rico's best things to do are in the same area too.
El Yunque National Forest is minutes away! You can have a great full-day trip to the east coast of Puerto Rico.
See what our Fajardo Bio Bay Kayak Tour includes!
We are Kayaking Puerto Rico!
In Kayaking Puerto Rico we are just a group of young people in love with our island. We know Puerto Rico and we like to share it with the world! We are addicted to being the best, so we have the highest standards of quality and service.
Also, we like to travel, see new places, and meet new people. So like you, we know how difficult it is to plan for activities in unknown places. When it comes to the Fajardo Bio Bay, we are pioneers! Since 2007, we have provided the best quality and most professional bioluminescence tour in Puerto Rico.   
For over ten years, we have been the #1 most trusted tour company in the Puerto Rico east coast area. The experiences of our guests make us shine on TripAdvisor and social media. It is our privilege to be your friends in Puerto Rico!
WHAT OUR GUESTS SAY
Claribel 19
Fort Lauderdale, Florida
There is always a reason to go back to Kayaking Puerto Rico!!! As I have done it for the pass years… Its an adventure whether you know how to kayak or not!! Knowledgeable staff from reservations to kayaking guides!!!! Recommended highly. Five stars!!!!!
Dana R
This company is awesome. They are friendly, fun, knowledgeable and have a few goofballs. They provide snacks after the trip and a picture.
KB_Anapollis
 Memories we will never forget, snorkeling with sea turtles, a great reef full of sea life, and the beautiful Flamenco Beach. Our whole family with kids 9-15 had an incredible time.